Easy Classic Deviled Eggs
This recipe is based on the classic formulation for deviled eggs. Just a nice, quick recipe that is easy to make and tastes great.
This recipe is not spicy at all and as such is a good choice for family get-togethers where there are children and you're catering to a wide variety of tastes.
The filling of this recipe is on the firm side. Add a tad more mayo if you would like it a bit softer.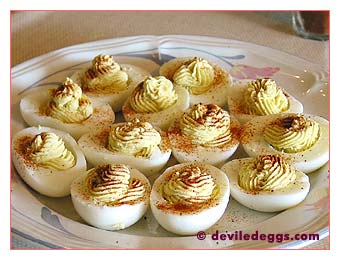 6 hard-cooked eggs, peeled and cut lengthwise
¼ cup Light Mayonnaise or Salad Dressing
½ teaspoon dry ground mustard
½ teaspoon white vinegar
1/8 teaspoon salt
¼ teaspoon ground black pepper
Paprika for garnish
Pop out (remove) the egg yolks to a small bowl and mash with a fork. Add mayonnaise, mustard powder, vinegar, salt and pepper and mix thoroughly. Fill the empty egg white shells with the mixture and sprinkle lightly with paprika.
Cover lightly with plastic wrap and refrigerate for up to one day before serving.