Deviled Egg Recipes
Here are some of my favorite recipes for deviled eggs - great appetizers for all of your special occasions!
All of these recipes suit the tastes of my family and you may find that you enjoy a little less or a little more of one ingredient. Feel free to experiment yourself! After all, the "funnest" and most creative part of making your own deviled eggs is that you get to tweak each recipe to suit you!
Some of the recipes use light mayonnaise to help cut down on the calories from fat to accommodate low cholesterol and low fat diet plans (with 50% less fat than regular mayonnaise). Hellman's is a nice choice. But you can always substitute either way with little difference in texture or firmness. Regular mayo or salad dressing will produce a creamier result though.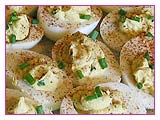 Always keep your deviled eggs well-chilled, taking additional precautions in the summer months. It is never wise to eat deviled eggs that have been left out of the fridge for more than an hour or so, during hot weather in particular.
I have met two groups of deviled egg lovers - people who like the filling firm and others who like it soft and gooey. Myself, I do like the filling to be on the firmer side, not "slooshing" out all over my fingers! Plus, it's easier to pipe - if you would like to make lovely designs like the eggs you see above, follow my recipes and it will be about the right thickness. But to make the filling softer, adding 1 tablespoon of mayonnaise should be sufficient!
Here are 11 great recipes to try:
A "Little Bit Devilish" Deviled Eggs
Sweet Pickle and Horseradish Deviled Eggs
Crab Meat & Celery Deviled Eggs
Deviled Eggs for Fifty (people that is!)

An Oldie in the Better Homes & Gardens Salad Book
Sweet and Sour Deviled Eggs

Dameon's Red Deviled Eggs