A Little Bit Devilish Deviled Eggs
Now we're going to get "spicy"! After all, the name "deviled eggs " suggests the result should at least be a little bit on the naughty side! This recipe raises the heat with the addition of hot sauce. Spiciness is a personal preference, so I'll start you off with a suggestion and you can turn the heat up or down as you enjoy!
You'll find the heat quotient mild to medium with this recipe.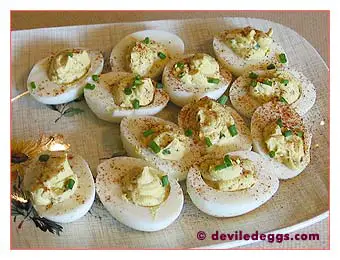 6 hard-cooked eggs, peeled and cut lengthwise
¼ cup Light Mayonnaise or Salad Dressing
1 teaspoon dijon mustard
1 teaspoon chives, chopped very fine for filling
1 teaspoon chives, chopped fine for garnish
3 dashes of hot sauce, your choice of brand and heat
1/8 teaspoon salt
¼ teaspoon ground black pepper
Paprika for garnish, or for extra kick, use a light sprinkle of chili powder
Pop out (remove) the egg yolks to a small bowl and mash with a fork. Add mayonnaise, mustard, 1 tsp of the chives, hot sauce, salt and pepper and mix thoroughly. Fill the empty egg white shells with the mixture and sprinkle lightly with chives then the paprika.
Cover lightly with plastic wrap and refrigerate for up to one day before serving.